eHour Timesheet Management
eHour is the open source webbased time tracking tool for companies and organizations who need accurate information on how much time is spend on projects.

eHour makes the amount of time your people spend on projects visible and available as simple and user friendly as possible.

Read more about eHour's features here or go straight to the download page.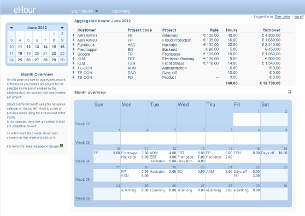 Click for more screenshots
News
18 october 2013: eHour 1.2.2.1 released
The Windows installers for eHour 1.2.2.1 now are bundled with Java, no need to install it beforehand.

16 october 2013: eHour 1.2.2 released
eHour 1.2.2 fixes a number of bugs, read the release notes and download it.

2 june 2013: eHour 1.2.1 released
eHour version 1.2.1 is now available for a download. This is a bug-fix release fixing issues with the excel exports and Internet Explorer 8 in compatibility mode.

15 may 2013: eHour 1.2 released
Version 1.2 is available for download. A few big changes under the hood, localization fixes and a new translation were added. The release notes contains the full change log.

20 nov 2012: eHour 1.1 released
TE-CON is proud to announce eHour version 1.1 ! This release fixes a few important bugs, read all about it in the release notes or download eHour 1.1

15 jun 2012: eHour 1.0 released
eHour version 1.0 is released ! Have a look at the release notes and download eHour 1.0

7 jun 2012: eHour 1.0 beta
Please help testing eHour 1.0 beta ! More info in the forum.

2 feb 2012: Java 7
There's an issue with Java 7. When you use Java 7 to run eHour, use the nightly build.

18 dec 2011: Nightly build
Nightly builds are now available. These are downloads based on the latest, unreleased code, only for testing purposes.